How to Choose the Perfect Domain Name
1. Use The Right Domain Name Extensions (.com, .org, .net)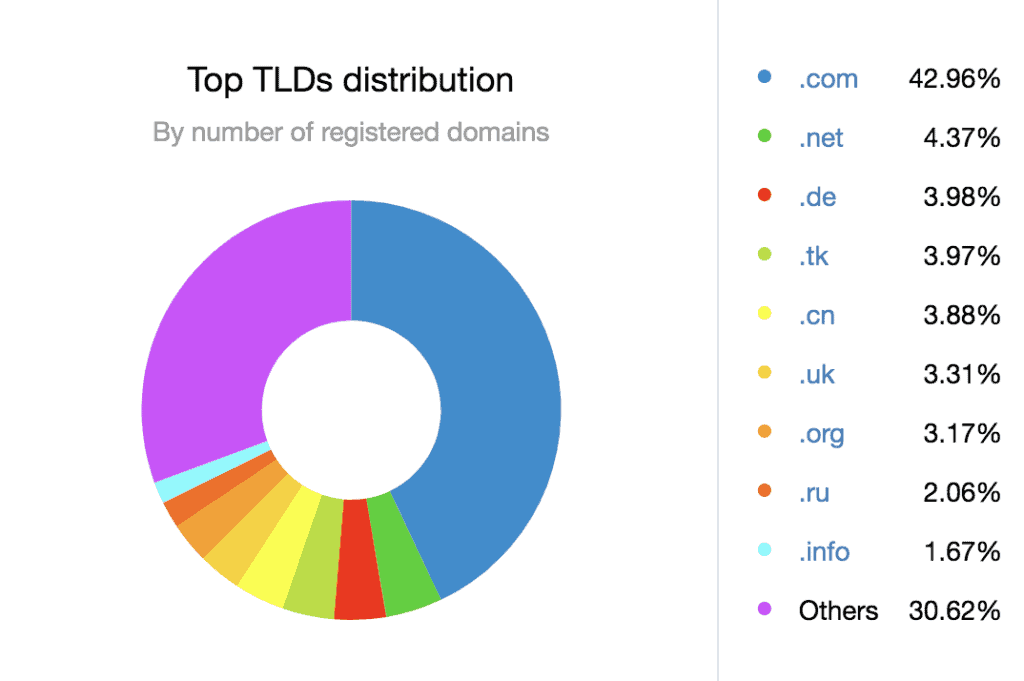 Source: domainnamestat.com
When you choose your domain name extension, you can be sure of one thing: ".com" is still the best.
According to research from DomainNameStat, 43% of all domains have the ".com" extension.
Why? Well, ".com" is the most familiar and easiest to remember.
While there are many successful websites with a ".net" and ".org", your website will probably do better if it has a ".com" extension. It's the safest bet.
My advice: Go with .com. If that's taken, try .net or .org. If these are taken too, you'd be better off brainstorming a new domain name. And oh! – Avoid those weird extensions like ".club", ".space", ".pizza" and so on.
2. Brandable Over Generic
Creative and brandable are always better than generic.
Remember: Your domain name is how visitors will find, remember, and share your company on the web. It is the foundation of your brand.
Here's the main difference between a brandable and generic domain name:
A brandable domain name is unique and stands out from the competition, while a generic domain name is usually stuffed with keywords and unmemorable.
For example, do you know the difference between Healthinsurance.net, Newhealthinsurance.com, or Healthinsurancesort.com? Probably not, right?
These are horribly generic. They don't have any meaning. You won't hear anyone talking about how awesome "Insurance.com" is. Variations of the word "insurance" will increase the competition and make it blend in even more.
Sites like UnitedHealthCareOnline.com and Anthem.com stand out because they stand for something. When people hear those domain names, there is a trust factor there.
Here's how to find a more brandable domain name:
Create new words. You can make up your own catchy, new words. That's what Google, Bing, and Yahoo did.
Use existing words. You can use a thesaurus to find interesting words that fit your brand.
Use domain name generators. These tools can help you create a unique, brandable domain name from your initial domain ideas and keywords. (We'll highlight some of our favorite domain name generators later in this post.)
3. Short Is Better Than Long